EXPLANATORY NOTES
The Consumer Price Index (CPI) measures the average percentage changes over time (between two time periods) in the prices of a "basket" of consumer goods and services acquired by households (the market basket) in Zanzibar. This basket covers a wide range of goods and services arranged in the following twelve Classification of Individual Consumption According to Purpose (COICOP) divisions namely;
i). Food and Non-Alcoholic Beverages
ii). Alcohol Beverages, Tobacco and Narcotics
iii). Clothing and Footwear
iv). Housing, Water, Electricity, Gas, and Other Fuels
v). Furnishing, Household Equipment and Routine Household Maintenance
vi). Health
vii). Transportation
viii). Communication
ix). Recreation and Culture
x). Education
xi). Restaurants and Hotels
xii). Miscellaneous Goods and Services
The base period of the CPI used for comparison over time is August 2012. The base period index is set at 100. It is the reference point of the index number series. That is: the price level for the selected items in a given period is compared to the one in the base period. For instance, if the price of the basket increased by 10 percent since the base period it would show an index value of 110; similarly, a decline by 10 percent represents an index level of 90.
The weightings of the CPI basket were based on the estimates of expenditure data from the Household Budget Survey (HBS) conducted in 2009/10. The CPI was constructed according to recommended international standards and the Classification of Individual Consumption According to Purpose (COICOP) Codes. Necessary measures were taken with respect to the standards and regular quality monitoring in order to ensure the accuracy and reliability of the index.
Given the importance of the weighting structure in the compilation of the CPI, consumption data from HBS were crosschecked for accuracy with other sources of information such as insurance, consumption of coconut at individual household, actual and imputed rents. It was noted that for some of the items expenditures reported were understated and for a few others overstated. Following this balancing exercise, some of the items weights were adjusted. Furthermore, since the index has a base of August 2012 and the 2009/10 HBS had a reference of June 2009 to July 2010, finally, the weights were adjusted for price changes through August 2012.
The table 1 below presents the weights for 12 COICOP Division.
Table 1: Weights for 12 COICOP Divisions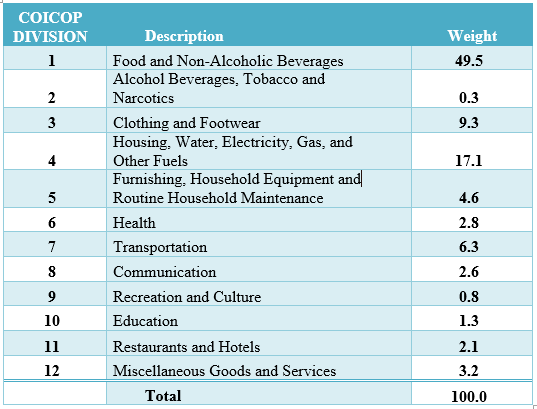 The expenditure on estimated rent for owner occupied dwelling known as inputted rent was also considered during the construction of the CPI weights.
The Office of Chief Government Statistician publishes the official CPI; this index has fixed weights for a selected basket of goods and services corresponding to the reference period. The geometric version of the modified Laspeyres index formula below was used for index computation, a weighted geometric average is taken of the price relatives using expenditure shares, a share during base period considered as a weights used for index computation.

| No. | Year | Title | File | Count |
| --- | --- | --- | --- | --- |
| 1 | 2023 | ZANZIBAR CONSUMER PRICE INDEX (CPI) FOR APRIL 2023 | | 1 |
| 2 | 2023 | Zanzibar Consumer Price Index, May 2023 | | 1 |
| 3 | 2023 | Zanzibar Consumer Price Index, June 2023 | | 1 |
| 4 | 2023 | Zanzibar Consumer Price Index, July 2023 | | 1 |
| 5 | 2023 | Zanzibar Consumer Price Index, August 2023 | | 1 |
| 6 | 2023 | Zanzibar Consumer Price Index, September 2023 | | 1 |
| 7 | 2022 | ZANZIBAR CONSUMER PRICE INDEX (CPI) FOR JANUARY 2022 | | 1 |
| 8 | 2022 | ZANZIBAR CONSUMER PRICE INDEX (CPI) FOR FEBRUARY 2022 | | 1 |
| 9 | 2022 | ZANZIBAR CONSUMER PRICE INDEX (CPI) FOR MARCH 2022 | | 1 |
| 10 | 2022 | ZANZIBAR CONSUMER PRICE INDEX (CPI) FOR APRIL 2022 | | 1 |
| 11 | 2022 | ZANZIBAR CONSUMER PRICE INDEX (CPI) FOR MAY 2022 | | 1 |
| 12 | 2022 | ZANZIBAR CONSUMER PRICE INDEX (CPI) FOR JUNE 2022 | | 1 |
| 13 | 2022 | ZANZIBAR CONSUMER PRICE INDEX (CPI) FOR JULY 2022 | | 1 |
| 14 | 2022 | ZANZIBAR CONSUMER PRICE INDEX (CPI) FOR AUGUST 2022 | | 1 |
| 15 | 2022 | ZANZIBAR CONSUMER PRICE INDEX (CPI) FOR SEPTEMBER 2022 | | 1 |
| 16 | 2021 | ZANZIBAR CONSUMER PRICE INDEX (CPI) FOR JANUARY, 2021 | | 1 |
| 17 | 2021 | ZANZIBAR CONSUMER PRICE INDEX (CPI) FOR FEBRUARY, 2021 | | 1 |
| 18 | 2021 | ZANZIBAR CONSUMER PRICE INDEX (CPI) FOR MARCH, 2021 | | 1 |
| 19 | 2021 | ZANZIBAR CONSUMER PRICE INDEX (CPI) FOR APRIL, 2021 | | 1 |
| 20 | 2021 | ZANZIBAR CONSUMER PRICE INDEX (CPI) FOR MAY 2021 | | 1 |
| 21 | 2021 | ZANZIBAR CONSUMER PRICE INDEX (CPI) - JUNE 2021 | | 1 |
| 22 | 2021 | ZANZIBAR CONSUMER PRICE INDEX (CPI) FOR JULY 2021 | | 1 |
| 23 | 2021 | ZANZIBAR CONSUMER PRICE INDEX (CPI) FOR AUGUST 2021 | | 1 |
| 24 | 2021 | ZANZIBAR CONSUMER PRICE INDEX (CPI) FOR SEPTEMBER 2021 | | 1 |
| 25 | 2021 | ZANZIBAR CONSUMER PRICE INDEX (CPI) FOR OCTOBER 2021 | | 1 |
| 26 | 2021 | ZANZIBAR CONSUMER PRICE INDEX (CPI) FOR DECEMBER 2021 | | 1 |
| 27 | 2021 | ZANZIBAR CONSUMER PRICE INDEX (CPI) FOR NOVEMBER 2021 | | 1 |
| 28 | 2020 | Zanzibar Consumer Price Index (CPI) For APRIL, 2020 | | 1 |
| 29 | 2020 | Zanzibar Consumer Price Index (CPI) For MAY, 2020 | | 1 |
| 30 | 2020 | ZANZIBAR CONSUMER PRICE INDEX (CPI) FOR AUGUST, 2020 | | 1 |
| 31 | 2020 | ZANZIBAR CONSUMER PRICE INDEX (CPI) FOR SEPTEMBER, 2020 | | 1 |
| 32 | 2020 | ZANZIBAR CONSUMER PRICE INDEX (CPI) FOR OCTOBER, 2020 | | 1 |
| 33 | 2020 | ZANZIBAR CONSUMER PRICE INDEX (CPI) FOR NOVEMBER, 2020 | | 1 |
| 34 | 2020 | STATISTICAL RELEASE DECEMBER - 2020 | | 1 |
| 35 | 2019 | Zanzibar Consumer Price Index (CPI), November 2019 | | 1 |
| 36 | 2019 | Zanzibar Consumer Price Index (CPI), December, 2019 | | 1 |
| 37 | 2019 | Zanzibar Consumer Price Index, January 2019 | | 1 |
| 38 | 2019 | Zanzibar Consumer Price Index, February 2019 | | 1 |
| 39 | 2019 | Zanzibar Consumer Price Index, March 2019 | | 1 |
| 40 | 2019 | Zanzibar Consumer Price Index, April 2019 | | 1 |
| 41 | 2019 | Zanzibar Consumer Price Index, May 2019 | | 1 |
| 42 | 2019 | Zanzibar Consumer Price Index, August 2019 | | 1 |
| 43 | 2019 | Zanzibar Consumer Price Index, September 2019 | | 1 |
| 44 | 2018 | Zanzibar Consumer Price Index 2018 | | 1 |
| 45 | 2017 | Consumer Price Index Compilation Procedures and Indices | | 1 |
| 46 | 2017 | Zanzibar Consumer Price Index, 2017 | | 1 |
| 47 | 2016 | Zanzibar Consumer Price Index, 2016 | | 1 |